New themes are online written by swift, 2013-04-20 22:41 CEST
I've just pushed another update to the site. Here's a live example of the new "Bootstrap Theme" in its default setup in action:
Example of a full-page banner with the Slate Theme (image source):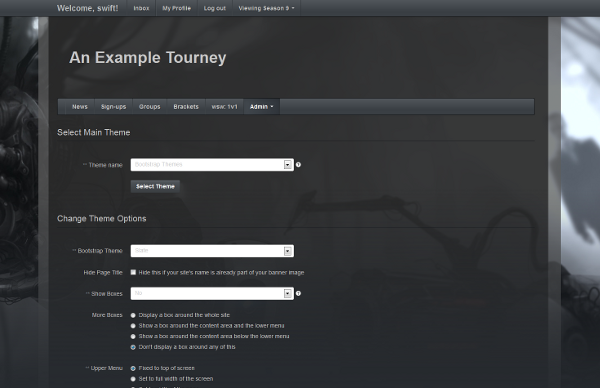 To use the new theme on your existing tourney page, follow these directions:
"Admin" area -> Customize Look n' Feel -> Select Main Theme -> Bootstrap Themes.
As the way the banner now fits into the new themes has changed quite a bit, your old banner image will probably not fit very well with the new themes. As a temporary workaround you can download the new default banner and upload it to your site.
If you run into any issues with the new update, let me know either by commenting here or sending me a message through the contact form.
Changelog 2013-04-20:
Added 13 new "Bootstrap Themes" that come with a multitude of bigger and smaller changes that should make everything a whole lot prettier and more usable.
Added 6 additional options for themes to customize the way they look even further
The themes Monochromatic Theme and Custom CSS Theme are now deprecated, many changes made do not apply to them and the themes may be removed in the future
You can now navigate around big brackets by dragging the area around like you would on a touch device
The 'Bracket Overview' Image can now be shown/hidden (was only visible to big brackets) and works from the full-page view as well
The match-detail pop-up is now working properly from the full-page bracket as well
Fixed a bug related to uploading banners
Banner images are now allowed to be up to 2560x1080 in size and will be shown as part of the page background
The size of the area above the main navigation now scales between 50 and 200 pixel based on the height of the uploaded image
Changed the way pageviews are counted.
Added a number of new tooltips to various areas
Confirming the irreversible deletion of items no longer requires filling a captcha
Added a better overview for the sign-up stage to give a better idea of what is going on
Fixed a small display error when both Sign-up Start and End date were set to the future